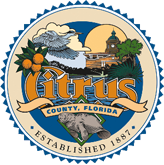 Citrus County
Geographic Information Systems
The page contains links to interactive maps with specific models generated to overlay the map.
---
Sea Level Rise Model
This model is a time-series interactive map depicting potential rise in sea levels. Inundation surfaces are at decadal intervals from 2040 - 2100 for MSL (mean sea level) Tidal Datum using the intermediate USACE (United States Army Corps of Engineering) curve. Sea level trends for Citrus County show a rise of 0-3mm per year, or 0-1 feet per century.

The data was obtained from the Sea Level Scenario Sketch Planning Tool developed by the University of Florida and funded by the Florida Department of Transportation Office of Policy Planning.